We took a flight from Lima to Cusco, then a taxi to Huaran, a tiny hamlet in the Sacred Valley. Our accommodations were at the Green House, the best B&B I have ever stayed in.
http://www.thegreenhouseperu.com
Hosts Bryan (from Liverpool) and Gabriel (Buenos Aires) are funny, friendly, and gracious. Just one of many examples of their helpfulness: For our day trip to Machu Picchu, we had to catch a very early train. No time for breakfast. Bryan was up to see us off--with a bag containing a picnic breakfast of sandwiches, fruit, and cookies for us to eat on the train!
Julia and I are both dog lovers, so we were delighted by the three house dogs Paco (aka Puppy), Yana, and Laika. Laika takes special responsibility for the guests, cuddling whenever invited to, and taking them for a lovely walk to a nearby waterfall.
You can opt to have dinner at the Green House, cooked by Gabriel, and we did this three out of the four nights. Our menus:
Wednesday:
--sweet potato soup
--Green House beef stew over mashed potatoes
--apple crumble with ice cream
Thursday
--individual broccoli quiches
--Green House spinach cannelloni
--chilled lemon mousse
Saturday
--guacamole with tequenos (crisp rolled pastries stuffed with cheese)
--trout over a potato mille-feuille topped with salad
--chocolate brownie and ice cream
Nothing too fancy--home food instead of restaurant food--and every dish was delicious.
The stunning view from our room at the Green House. Only four rooms total. The village of Huaran consists a school and three tiny shops. (If you want shopping and night life, this is *definitely* not the place for you.)
Regular visitors to this blog know that I don't usually spend this much time describing my accommodations. But the Green House is special. I don't expect I'll ever stay in a more peaceful and pleasant place anywhere in the world.
Laika leads the way...
...past the rainbow...
...to the waterfall...
Julia gets into the Green House groove.
Friday, May 17: Machu Picchu
Okay, so everyone takes millions of photos at Machu Picchu--you can't help it. But even the best photos cannot convey the essence of the place. Those below are just to prove that We Were There.
Except for a few brief breaks in the cloud cover, it rained almost the entire time we were in Machu Picchu. Didn't matter. In the morning there were a couple thousand other people there. Didn't matter. The high altitude and hundreds of stairs had me puffing so hard I almost saw stars. None of it mattered: Machu Picchu is truly wondrous in a way that's impossible to put into words, even for someone like me who likes to put almost everything into words. We stayed until late in the afternoon, when the place emptied out almost completely, and it was even more magical then.
There's still more to our trip (including a really fun horseback ride and a perfect final meal in Lima), but enough for now. I've been home for twenty-four hours and am still smiling.
The Sacred Valley and Machu Picchu, May 15-19
Julia Durango
, who traveled with me: Julia speaks fluent Spanish, and if it hadn't been for her, I'd *still* be in the wrong taxi.... Many of the photos below were taken by her (JD).
May 11-14, in Lima:
At Huanca Pucllana archeological site. (JD)
In the Pueblo Libre neighborhood at the Museo Larco: saying hello to the resident Peruvian hairless dog amid lush display of bougainvillea. (JD)
Whenever I'm traveling abroad and staying in hotels, I always have at least one impassioned "wish I had a kitchen!" moment. This was it for me in Peru: The local supermarket sold beautiful small scallops on the half shell with the roe attached. (JD)
At Colegio Roosevelt:
With John Kurtenbach and Julia. (I think Tina took this photo?--Thanks, Tina!)
With library assistant Tina Raventos and elementary librarian Michelle Roberts. And Knuffle Bunny.
With the Simpsons. (Papier mache heads display in the elementary library. Thanks again to Tina for taking the photo.)
With the students from the Korean club, who helped organize my evening presentation to the school's Korean community. Two of the students did simultaneous translation of my remarks--not an easy job! (JD)
Delicious stir-fry of flounder and veg at Chez Wong, a quirky little restaurant in Lima. No menu: First course is flounder ceviche, with or without octopus (we had it with), followed by the flounder stir-fry, and then another flounder stir-fry with homemade black-bean sauce. Very simple food and very delicious.
At Amaz restaurant, specializing in dishes made with ingredients from the Amazon region, several entrees were wrapped and steamed in bijao leaves. This is my hearts of palm and chicken, which was interesting and tasty; Julia's fish dish was even better.
The Dunkin Donuts in Lima airport: a donut called Delirium.
Our wonderful stay in Lima was due to the efforts of John Kurtenbach, Lisa Gore, Michelle Roberts, Tina Raventos, and all the library staff at Colegio Roosevelt. Thanks also to the teachers who used our books with their students, and most of all, to the TERRIFIC STUDENTS who read our books and were such enthusiastic audiences!
Next entry: Part II, the Sacred Valley and Machu Picchu
Home after a wonderful trip. Extra special thanks to author


Meanwhile, I had my own scare as I was watching the news coverage about Oklahoma last night. There was a loud thud from outside. I went out to the patio to check on what it could be. It came from the area where the cabinet holding the water heater is, so I was worried that the water heater had failed. Unfortunately, I've been having issues with that cabinet door. The door is rotted through, and it won't shut all the way. I turned in a maintenance request on that more than a year ago, but the HOA decided to table that repair. The hinges are also messed up, and trying to fully shut the door pulls them out of the wall. I figured it was potentially an emergency, so I sprayed WD-40 on the hinges and forced the door open so I could see inside. The water heater was okay, but the drywall in the ceiling had fallen in, and that's the sound I heard. The online maintenance request system allows you to leave comments for work orders, so I added a snarky note about how much money they saved by tabling that maintenance request, since the door being stuck ajar meant that the interior was exposed to the elements, and now they're going to have to put in a new ceiling. I had a response first thing this morning, and they're sending someone by to look at it. At least this one is on the HOA, not a repair I have to deal with.

But the adrenaline rush from that bit of excitement meant I was finally able to stay up late enough to finish reading The Night Circus by Erin Morgenstern. Really, this is a book best read in one sitting -- a good rainy Saturday book -- because it weaves a spell and I think it would be wonderful to remain immersed in it for hours. Unfortunately, I had to read it in bits and pieces before I went to bed at night. It's difficult to describe the plot because this is a more "literary" fantasy novel that's more about ideas and atmosphere than story. Basically, there are two magicians who have very different philosophies on how to do magic. They have a running contest going on in which they each select a student, train that student, then have those students compete against each other. This seems to have been going on for centuries. The latest contest, starting during the Victorian era, plays out in a mysterious circus, where the young man and young woman who are competing create all kinds of wonders. The problem is that they don't really want to compete. They want to work together, and they fall in love. But the contest doesn't end until one of them is dead, and the circus is linked to them.

For me, the main appeal was the imagery of the circus. I want to go there so badly. It's only open from sunset to sunrise. Everything is black or white, and there's all kinds of magical stuff happening, so it's like going through a dream. The circus builds up a group of fans who follow the circus around the world, and the fans attend wearing all black and white so they can feel like they fit in, but with one red accessory to acknowledge that they aren't really part of the circus. I'd kind of like to see a movie based on this book, just to see what imagery they might use to bring the circus to life, but I'm not sure even the best special effects houses could outdo my imagination. The plot might be difficult to film, though, because it follows a couple of different timelines and jumps around until they converge. That would be confusing on film, but I think the story would lose something if told chronologically.

Anyway, stock up on caramel corn and hot cocoa, wear black with a red accessory and let yourself be immersed for the best experience. Then you'll want to go to a circus -- something more like Cirque du Soleil than Ringling Brothers.
Today has the potential to be really scary, since they're forecasting severe storms for the afternoon. After seeing yesterday's devastation in Oklahoma, that's even more frightening. With us, it's likely to be high winds and hail, with the high winds blowing the hail horizontally, and there I'm fortunate that my townhouse is on the "safe" side of the building away from the direction the storms will be coming from. Still, it will be hard to get the images from Oklahoma out of my head when the winds kick in. I spent my childhood not too far from there, and I've never seen anything like it.
http://greetings-from-nowhere.blogspot.com/2013/05/writing-tip-tuesday_21.html
Here's a little writing mistake that I find is easy to make:
Forgetting about the setting.
Sometimes I lay out the setting at the beginning of the book. I throw in all those great details to show the reader where we are...
...and then I amble along (or ramble along) with the story and forget to remind the reader about the setting - to toss in more sensory details so the reader can still see where she is.
So - don't forget to remind the reader about the setting.
It doesn't have to be anything major.
One little sentence.
One little phrase.
Just enough to keep the reader grounded in the place and time.
For example:
I just finished writing a scene that takes place in the main character's bedroom.
The reason he is in the bedroom, instead of being outside where he really wants to be, is because it is raining.
And not just rain, but a thunderstorm.
But I got all caught up in action of the scene in the bedroom...
...and I forgot that it was storming outside.
When I went back and added the rain pattering against the window and the thunder rumbling in the distance - the whole scene came alive and reconnected with the previous scene in the story.
So - don't get so caught up in the action of the story that you forget about the setting.
http://charlotteslibrary.blogspot.com/2013/05/terra-tempo-ice-age-cataclysm-by-david.html
Terra Tempo: Ice Age Cataclysm!
, by David Shapiro (illustrated by Christopher Herndon with color by Erica Melville; Craigmore Creations, 2010) is a time travel graphic novel in which three kids use a magical map to travel back to the end of the Ice Age in North America, just in time to watch Glacial Lake Missoula break through its ice dam. It's essentially a science lesson nestled within an adventure story--the intent of the book is to instruct, and indeed it's a clearly presented look at a fascinating moment in time.
Twins Jenna and Caleb find the great uncle's mysterious travel journal that seems to contain instructions for time travel, along with a map showing the Missoula flood. Along with a third kid, Ari (keenly interested in Ice Age fauna), they follow the directions....and they work. Now the kids must keep from being eaten by the local fauna, with the help of a friendly Thunderbird, who flies them over the landscape, giving them a chance to see the lake, and its flood, from a wonderfully unique perspective.
The illustrations are lovely, and engrossing; the adventures of the kids somewhat less so. However, because the story is punctuated with didactic intrusions, it doesn't flow all that smoothly as fiction. I don't mind learning through fiction, but the balance felt a bit off to me here...It didn't help that the great uncle's journal contained important bits of information conveyed in forced rhyme.
At one point, toward the end, the kids see a village from the air, right in the path of the flood, and I was hopeful that some honest to goodness Story would happen (as opposed to sight-seeing and occasionally menacing fauna), but nothing more comes of it.
Sort answer--this would be an invaluable tool to use in introducing kids to the end of the Ice Age. It is beautifully illustrated, and the subject is interesting. But it's not one to necessarily offer your kid who loves graphic novels for their stories.
That being said, this one might not have worked that well for my particular family because we have watched
Mystery of the Megaflood
a gazillion times because that's the sort of kid my oldest is...so I think I'll get hold of the second book,
The Four Corners of Time
. We know a lot less about the Cretaceous Period on the Colorado Plateau, and the good thing about visually appealing graphic novels like this is that they will be read by the aforementioned picky reader kid, even if they are not passionately loved.
I'm back in beautiful Greenville, South Carolina for a series of school visits this week. In downtown Greenville, they have adorable little mouse statues around the downtown. When I was in Greenville in March, I bought a replica to bring home with me, and now he sits on my living room windowsill.
Here he is with the South Carolina Picture Book Award medal for
Hot Rod Hamster
.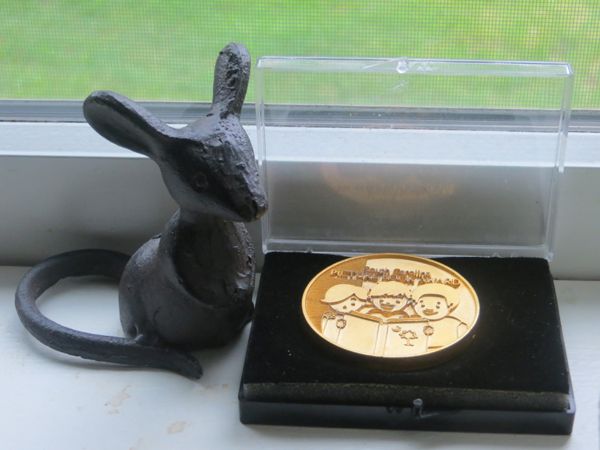 Current Mood:

grateful
http://blogs.slj.com/afuse8production/2013/05/20/bea-one-stop-shopping-what-to-see-and-do-thats-ya-juv/
http://blogs.slj.com/afuse8production/?p=16437
Howdy, folks!
I can't take full credit for today's post since it was my ineffable co-worker Alison Hendon who took the time to cull together all the stuff at this month's upcoming Book Expo that is children and YA book related.  If you have any interest at all in attending but you're not quite sure what there is to do, here's a lovely schedule of events:
BEA 2013
THURSDAY, MAY 30
Getting Kids Reading                               9:30-10:20   1E12/1E13
YA Editors Buzz                                       10-10:50        1E14/1E15
Library Family Feud                               10-11:50      1E11
Journey of a YA Book                               11-11:50         1E16
Future of Ebooks                                       2-2:50           1E07
SF/Fantasy                                                3-3:30          Uptown Stage
Ebooks from Libraries                               3:30-4:20    1E10
The New Graphic Novel                            4-4:45           Uptown Stage
FRIDAY MAY 31
YA Author Buzz                                        10-10:30       Uptown Stage
Out of this World Pageturners                  11-11:30         Uptown Stage
Middle Grade Editors Buzz                       11-11:50         1E12/1E13
Writing Genre for Boys                              12:12:30       Uptown Stage
Middle Grade Authors Buzz                       1-1:30           Uptown Stage
Picture Book Powerhouses                        2-2:30          Uptown Stage
Betsy Bird signs Giant Dance Party      3:00              Table 8
Realistic Fiction YA                                    3:30             Uptown Stage
Librarian Shout and Share                         3:30-5          1E11
Kate DiCamillo/Cynthia Voigt                    4-4:50          Uptown Stage
SATURDAY JUNE 1
Adult Crossover/YA                                11-11:30         Midtown Stage
Sci Fi / Fantasy Writers                          12-12:30        Midtown Stage
Note that I have helpfully highlighted the most important events *cough cough* for your attending convenience.  One of those is the somewhat confusing "Family Feud".  Essentially, if you've ever wanted to watch me trash talk John Rocco, now's your chance.  The official description is below.
Authors and Librarians, Get Ready for the Feud….Library Family Feud! ™

10:00 am – 11:50 am
Room 1E11

Start out your convention RIGHT with a little sparring of smart wits between a team of librarians and authors who go at it Family Feud ™ style. Featuring the nation's smartest, toughest, and humor filled writers and librarians across the country! Hosted by AAP Library Committee Chair Chris Vaccari, Director, Sterling (aka…Quizmaster Chris…the industry's own Richard Dawson). Speakers (er, game show contestants) revealed here:

LIBRARIAN FAMILY: Christopher Platt, New York Public Library; Betsy Bird, New York Public Library; Erin Shea, Darien Library; Elissa Miller, DC Public Library and Jamie Watson, Baltimore County Public Library.

AUTHOR FAMILY: Simon Doonan, author of The Asylum: A Collage of Couture Reminiscences (Penguin/Blue Rider Press); Stephanie Evanovich, author of Big Girl Panties (HarperCollins/William Morrow); John Rocco, author of Super Hair-O and the Barber of Doom (Disney-Hyperion); Jill Shalvis, author of It Had To Be You (Hachette/Grand Central); Obert Skye, author of Pinocula (Macmillan Children's). A donation will be made to the winning (and losing) team's charity of choice!
Thems authors be going down!
For those in the Lehigh Valley area, or willing to travel there, I'll be on a panel this weekend to talk about writing for young adults:
Saturday, May 25, 11 AM - 1 PM
:
Panel on Young Adult Books
. Greater Lehigh Valley Writers Group.
PALMER LIBRARY
, 3 Weller Place, Palmer Township, PA. Appearing with Alissa Grosso, Nicole Zoltack, and John Evans.
I'm still reading a lot, and writing, and thinking.


I had several hours worth of choir stuff on Saturday, then a double-length service, luncheon and retirement celebration for my pastor on Sunday. So it's my typical Monday lament of needing a weekend to recover from my weekend.

I did have some fun on Friday in seeing the new Star Trek film. I'm still not totally on board with the Star Trek reboot. I'd have preferred them to do new stories in that universe about different characters rather than re-doing the familiar (and iconic) characters. These mostly play to me as space action movies, not Star Trek movies. This one was a fun action film, but to me it came across as a parody of Star Trek, done in the style of an action movie, with lots of little inside jokes. Most of the inside jokes were funny or were amusing winks to the more devoted Trek fans in the audience, but there was a big callback in a major scene that just about ruined the movie for me. No spoilers, but making the big emotional climax of your film be essentially an inside joke just doesn't work. I think I was supposed to be deeply moved, but instead I was giggling hysterically as I acted out the scene along with the actors because I knew exactly how it would go, in spite of having never seen this movie before. When your core audience can quote the dialogue verbatim before it happens, you've got problems.

Then there was the season finale of Doctor Who, which actually validated one of my (many) theories about what was going on, but I still need to wrap my head around it.

Now to go put my house back to normal from all the things I had to move to do the repairs, and then I want to write.
I had a productive and busy weekend. Thanks to those who contributed to the Keep Shanna's House Functioning Fund, and I hope you enjoyed your "thank you gift." I now have a working ceiling fan, garbage disposal and kitchen sink. The garage door opener is functioning but needs some professional maintenance. I also have a new doorbell that just requires a little bit of additional hardware. I'm now amazed at how long I went with these things not really working properly. I'm having to break a lot of habits, like re-learning to use both sides of the kitchen sink. I'm afraid I'm a little too good at adapting and getting used to a situation, to the point I don't feel all that moved to correct it. That explains why the contents of my office are spread out on the loft or piled up to the side. I just got used to something that was supposed to be temporary. I need to do something like set a timer and work on the office for a little bit each day until it's done. If I see steady progress and things change enough not to get used to it, that may help keep me going.